When planning a wedding, most people only focus on colors schemes, what people will wear to the wedding, and the décor. Without enough to feed your guests, however, everyone will remember your big day for all the wrong reasons. One element you should focus on when planning your wedding is the food.
In fact, putting together an ideal menu should be the first order of business after your proposal, so other elements do not overshadow it. Doing this also allows you to pick the best catering company in your area for your wedding. You might get overwhelmed trying to cater to all people's palates with your menu. The best approach is to match the menu to the season of your wedding date. 
Here is a guideline for doing this.
Spring
For a wedding in spring, pastel colors, bright flowers, and light flavors are what should be part of your ceremony. Include the many fruits, herbs, and vegetables that spring is renowned for in your menu. 
For appetizers, settle for a fruit bar, mini shrimp salad rolls mixed green salad, or a deconstructed bruschetta. The ideal main course menus for spring include spring vegetable risotto, rice, and herb-roasted chicken. The dessert can be a lavender wedding cake, colorful candy bars, or macaroons.
Summer
Weddings in summer are so much fun. In this season, choose a menu that matches your wedding venue. Feature summer fruits like watermelons, and peaches, and cucumber. 
For appetizers, a Caprese salad, frozen watermelon slices, and miniature crab cakes will do. For the main course, you can settle for mashed potatoes and brisket, cheese and lobster mac, sweet vegetable and grilled chicken, and pulled pork sandwiches. Strawberry, ice cream, or naked wedding cakes will be suitable for dessert. Peach blueberry cobbler and snowcone cart can also pass as a dessert treat.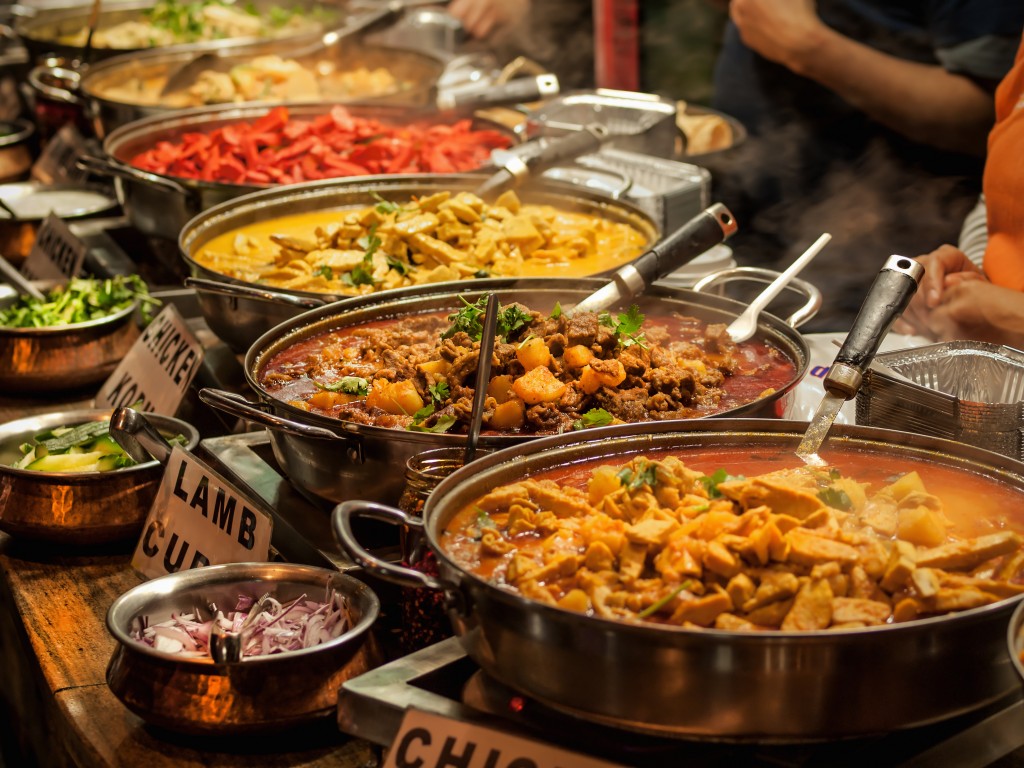 Fall
The vibrant colors and predictable weather in fall are making it a popular choice for weddings. When getting married in fall, consider hearty main courses, warming cocktails, rich flavors, and cozy appetizers. 
For appetizers, try brie and cranberry bites, potato leek soup shooters, and bacon-wrapped dates. Wild mushroom risotto, roasted pork loin, and sauteed apple slices and roast potatoes with grilled fillet suffice for the main course. Spiced carrot and decadent chocolate cakes and caramel apples make perfect desserts.
Winter
Comfort food is a staple on the menu of a winter wedding. Your menu should feature festive drinks, indulgent desserts, and homely entrees and seasonal flavors like chocolate mushroom and cranberry. 
For your appetizer, choose tomato soup and mini grilled cheese sandwiches, pear bruschetta, or pancetta-wrapped asparagus. Stuffed portobello mushrooms, green beans, and filet mignon and roasted potatoes with beef tenderloin suffice for the main course. Dark chocolate or red velvet cakes, donut bars, and homemade toffee are perfect desserts for your winter wedding.
With these guidelines, your reception guests will no doubt have a delicious treat. When considering your catering options, settle for someone who can execute your menu flawlessly. Picking the cheapest vendor might see you contend with a bland meal.